15/08/14 08:00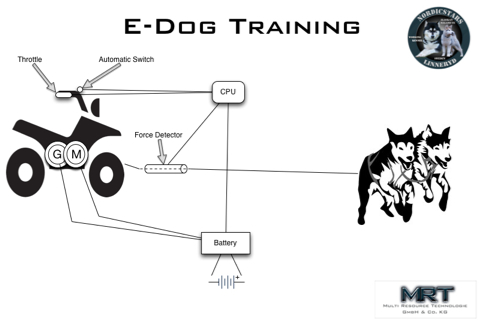 Das E-Dog Quad kann automatische einstellbare Zugleistung für Bergab und Bergauf gewährleisten. Die Einstellung erfolgt während der Fahrt. Die Fahrleistung kann auch manuell erfolgen über ein üblichen Gasdrehgriff.
Der Elektromotor unterstützt wenn notwendig die Bergauffahrten.
Der Elektromotor wird als Generator geschalten, wenn Bremsleistung erforderlich ist. Der Generator speichert die erzeugte Leistung in einer Batterie, die wiederum zum Antrieb verwendet wird.
Eine zusätzliche manuelle Bremsanlage ist vorhanden, da im Notfall, bzw. wenn die Bremsleistung des Generators nicht ausreicht.
Bei einer guten Einstellung (und/oder Hundeleistung) ist ein manuelles Nachladen der Batterie nur selten erforderlich.
Das E-Dog Quad ist für kleine Team´s (1 Hund) und größere Teams geeignet . Eventuell muss die Batterieleistung an die Teamgröße angepasst werden (kleine Teams größere Batterie).
Das E-Dog Quad hat eine Leistung von 10KW und kann auch für normale Fahrten oder arbeiten eingesetzt werden.
Schonen Sie Ihre Hunde und Ihre Umwelt
kein Lärm
keine Abgase
sanftes Fahren
gleichmässige Zugleistung
perfektes Training
-------------------------------------------
The E-Dog Quad can provide automatic adjustable towing force for downhill and uphill. The adjustment is made during the trip.
The driving performance can also be done manually using a conventional throttle.
The electric motor assists when necessary uphill rides.
The electric motor is switched as a generator when braking power is needed. The generator stores the generated power in a battery, which in turn is used to drive.
An additional manual brake system exists because in an emergency, or if the braking power of the generator is not sufficient.
With a good attitude (and / or performance dogs) is a manual recharging the battery rarely required.
The E-Dog Quad is for small Team's (1 dog), and larger teams suitable. You may need the battery power can be adjusted to the team size (small teams larger battery).
The E-Dog Quad has a power of 10KW and can also be used for normal driving or working.

Protect your dogs and your environment
no noise
no emissions
smooth driving
consistent towing force
perfect training